After the slaughter, the victim-blaming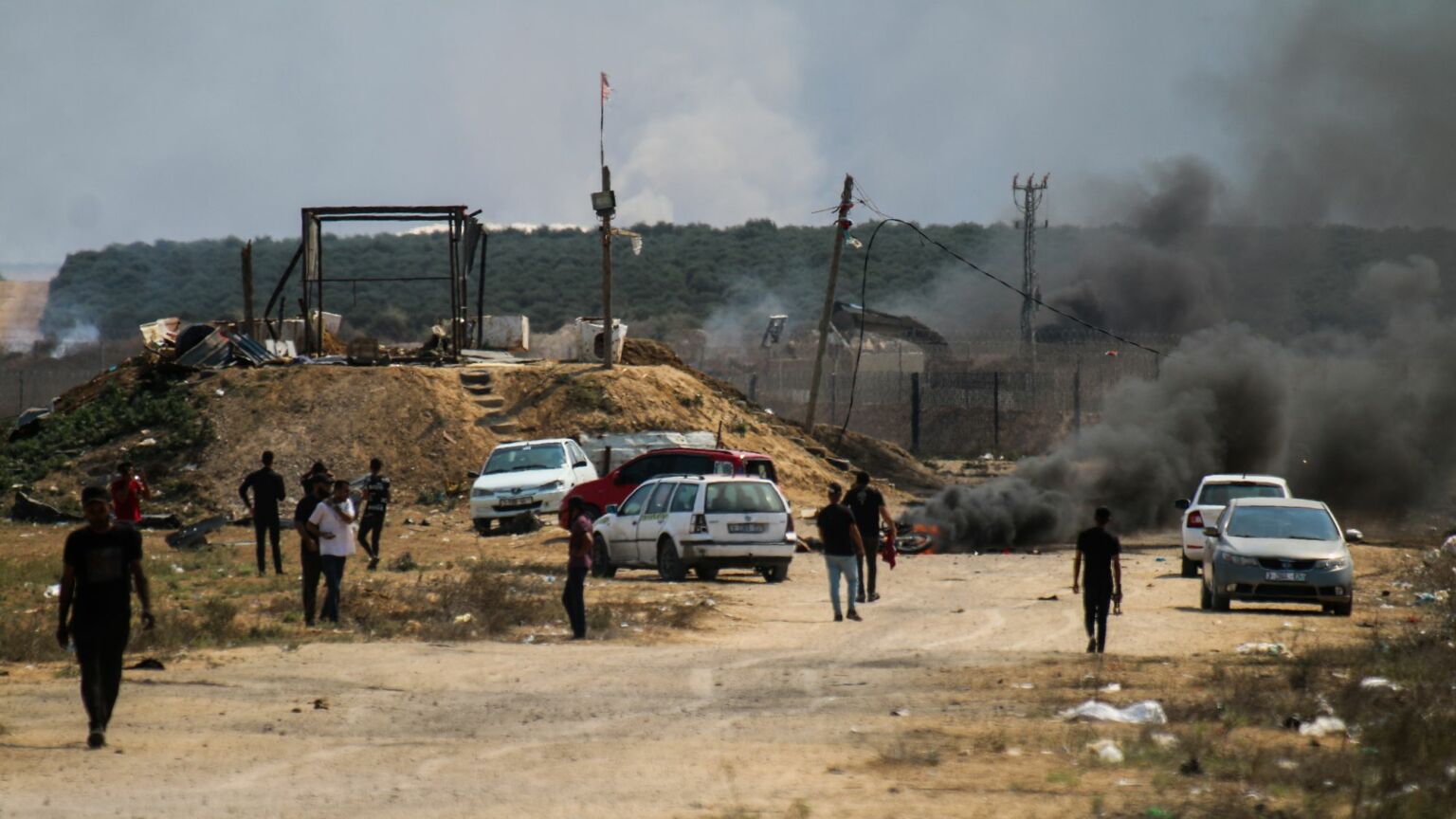 The politics of 'She was asking for it' simply reached a brand new low. As footage emerges of the twisted physique of a half-naked lady being defiled and spat on in Gaza, and of distressed moms and their youngsters being kidnapped in vans, and of an Israeli scholar begging 'Don't kill me!' as she's dragged from a music pageant by Hamas's Islamist goons, what are some observers within the West saying? That it's all Israel's fault. That Israel bears final duty for this ISIS-style slaughter of its individuals. That the Israelis introduced it on themselves. They had been asking for it.
First, Israelis are murdered, then they're discovered responsible of their very own murders. They're blown up, shot, stabbed, kidnapped and dragged by means of the streets in medieval spectacles of ritualistic humiliation, then they're advised: 'It's your personal rattling fault.' Think about the joint assertion from 31 social-justice marketing campaign teams at Harvard College, together with Harvard's Amnesty Worldwide affiliate. 'We, the undersigned scholar organisations, maintain the Israeli regime completely liable for the unfolding violence', it says. Fully accountable – acquired that? Solely Israel is at fault right here, nobody else. Not the boys who gunned down unarmed festivalgoers, or bundled pensioners into vans, or hacked up phlegm for the desecration of a lady's physique. No, simply Israel. 'The apartheid regime is the one one guilty', say these Ivy League radicals (my emphasis).
All of us knew academia was beset by mental and ethical rot, however this can be a new low. That America's finest and brightest, its future captains of politics and enterprise, are so morally misplaced, so bereft of essentially the most fundamental philosophical scruples, ought to fear all who look after the way forward for the US. There they're in leafy Cambridge, residing lives of unimaginable peace and luxury, sneering 'Nicely, what did you count on?' as a faraway individuals is subjected to murderous humiliation. We should stand in opposition to the 'ongoing annihilation of Palestinians', they mentioned, on a day when it was Israelis who had been being annihilated. Their anti-Israel myopia, their feverish, borderline spiritual conviction that the Jewish State is essentially the most evil state, has blinded them to actuality itself. They see photos of a younger Israeli lady who seems to have dirty herself from worry as she is paraded earlier than a mob and their first thought is: 'Poor Palestine.' It's like an ethical dysfunction.
There's hypocrisy, too. Campus radicals, together with the woke of Harvard, are eternally condemning 'victim-blaming'. Blaming the victims of injustice for their very own predicament is essentially the most mortal of sins in identitarian circles. Certainly, Harvard Legislation College has issued recommendation on 'the best way to keep away from victim-blaming'. It's at all times fallacious to say 'the sufferer quite than the perpetrator bears duty for [an] assault', it says. If solely Harvard's Israel-haters had learn it, they may have thought twice earlier than saying 'It's Israel's fault' on the very second whole Israeli households had been being worn out. Clearly, the identitarian left's ethical code doesn't prolong to Israel. Israel is judged by a distinct code, a particular one, one which does enable victim-blaming. One rule for us, one other for the world's solely Jewish state.
It's not solely the dim younger issues of Harvard who're holding Israelis liable for their very own struggling. Israel-blaming is rampant. The Democratic Socialists of America – whose members embody 'Squad' politicians like Ilhan Omar and Alexandria Ocasio-Cortez – mentioned 'right now's occasions are a direct results of Israel's apartheid regime'. 'In the present day's occasions' referred to Hamas's racist, murderous invasion of Israel on Saturday. That was your fault, Israel. Suck it up. 'Israel has nobody guilty however itself', says a author for the Center East Monitor. Leftish Israeli paper Haaretz echoes this view. 'The catastrophe that befell Israel on the vacation of Simchat Torah is the clear duty of 1 particular person: Benjamin Netanyahu', it mentioned.
Throughout social media, Western leftists have bent over backwards to 'contextualise' Hamas's barbarism. Gaza's an open-air jail, the brand new Warsaw Ghetto, a hell on Earth, so what did Israel count on, say these recent armies of conceited victim-blamers. In case your first intuition upon witnessing evil, upon listening to that 260 youths had been massacred at a music pageant, is to stroke your chin and provide up 'context', you're misplaced. It's the ethical equal of responding to the Pulse nightclub bloodbath by saying, 'Nicely, homosexual individuals could be annoying'. After all the leaders of Islamic nations assume Israel is guilty. As one headline summed it up, Saudi Arabia, Qatar and Iran all imagine 'Israel has solely itself guilty for Hamas assaults'.
One thing repellant, offensive to each human worth, is going down right here. It's greater than victim-blaming. It's the absolution of murderers and the condemnation of these they murdered. The Israel-haters take the blame from the boys who pulled the set off and place it on the nation whose individuals had been shot. They've discovered the Jewish state collectively responsible for its personal assault. Then they've the gall to feign shock when Jewish properties in London are attacked and Jews in Europe say they worry reprisals for current occasions. I'm sorry, however if in case you have already judged the Jews of Israel responsible for what befell them, you don't have any proper to be shocked when Jews elsewhere are discovered responsible, too. It's straightforward to open Pandora's field of collective racial guilt – it's far tougher to shut it once more.
We are able to now see the double racism in pseudo-progressive politics. There's the racism of hating Israel above all different nations. And there's the racism of viewing Palestinian Arabs as so childlike, so essentially missing in company, that they will by no means be held meaningfully liable for what they do. Make no mistake: when radicals say Israel is 'the one one guilty' for the atrocities it skilled on Saturday, they aren't solely demonising Israel – they're additionally infantilising Palestine. They're decreasing the Arabs of Gaza to a form of pre-human species able to nothing greater than reacting to stimuli. On this case, the stimuli of Israeli coverage. Israel acts and these individuals – these curious, innocent individuals – reply in a Pavlovian vogue. That's what they're saying.
It's a bigoted lie. At each stage of their barbarous assault on Israeli civilians, the Hamas terrorists had been making a selection. They selected to plan the assault. They selected to load their weapons. They selected to fireplace them at aged individuals ready for a bus and twentysomethings dancing at a pageant. They selected to kidnap grandmothers. They selected to parade distressed or lifeless ladies earlier than the mob. And at each stage they may have chosen not to do these issues. In claiming Israel is wholly liable for what Hamas did, the racial paternalists of the supposedly pro-Palestine woke left dehumanise Arabs to a staggering diploma. They make Israel the one grownup within the Center East, the one entity with company, the one nation mature sufficient to get pleasure from prison duty, whereas its attackers are diminished to the naïfs of world affairs.
That is racist. There is no such thing as a different phrase for it. We're witnessing the rise of a neo-Orientalism. The nice Palestinian author Edward Stated described Orientalism as a Eurocentric prejudice in opposition to Arab peoples that tended to view them as deviant and lascivious. It was a mixture of curiosity and contempt for the Arab world, he mentioned. Underneath the neo-Orientalism of right now's military of upper-middle-class Palestine pitiers, Arabs are innocents, not deviants; innocent, not merciless. After all it's racist to depict all Arabs as evil – however it's equally racist to depict them as being incapable of evil. To suggest that they lack the free will to decide on between good and unhealthy that's loved by us white Westerners, and likewise by the Jews of Israel. The woke elites may be enemies of Israel, however with their paradoxically imperious absolution of Palestinians of the burdens of company and maturity, they're no buddies of Palestine.
Some are referring to the assault on Israel as 'Israel's 9/11'. Actually it's one other 9/11 for us all. It's a turning-point occasion for humankind. As with the apocalyptic barbarism visited on the US on 11 September 2001, it raises the query: are we going to face in opposition to the regressive forces of anti-Westernism, anti-Semitism and anti-Americanism, all of that are types of anti-humanism, or are we not? America was likewise held liable for its struggling in September 2001. 'They'll't see why they're hated', mentioned a nauseating headline within the Guardian two days after that slaughter of three,000 individuals. Many failed the ethical check 9/11 offered us with. They turned in opposition to America, turned in opposition to Western values, mentioned we had it coming, cosied as much as radical Islam, disappeared down the rabbit gap of id politics. Let's not enable that to occur once more.