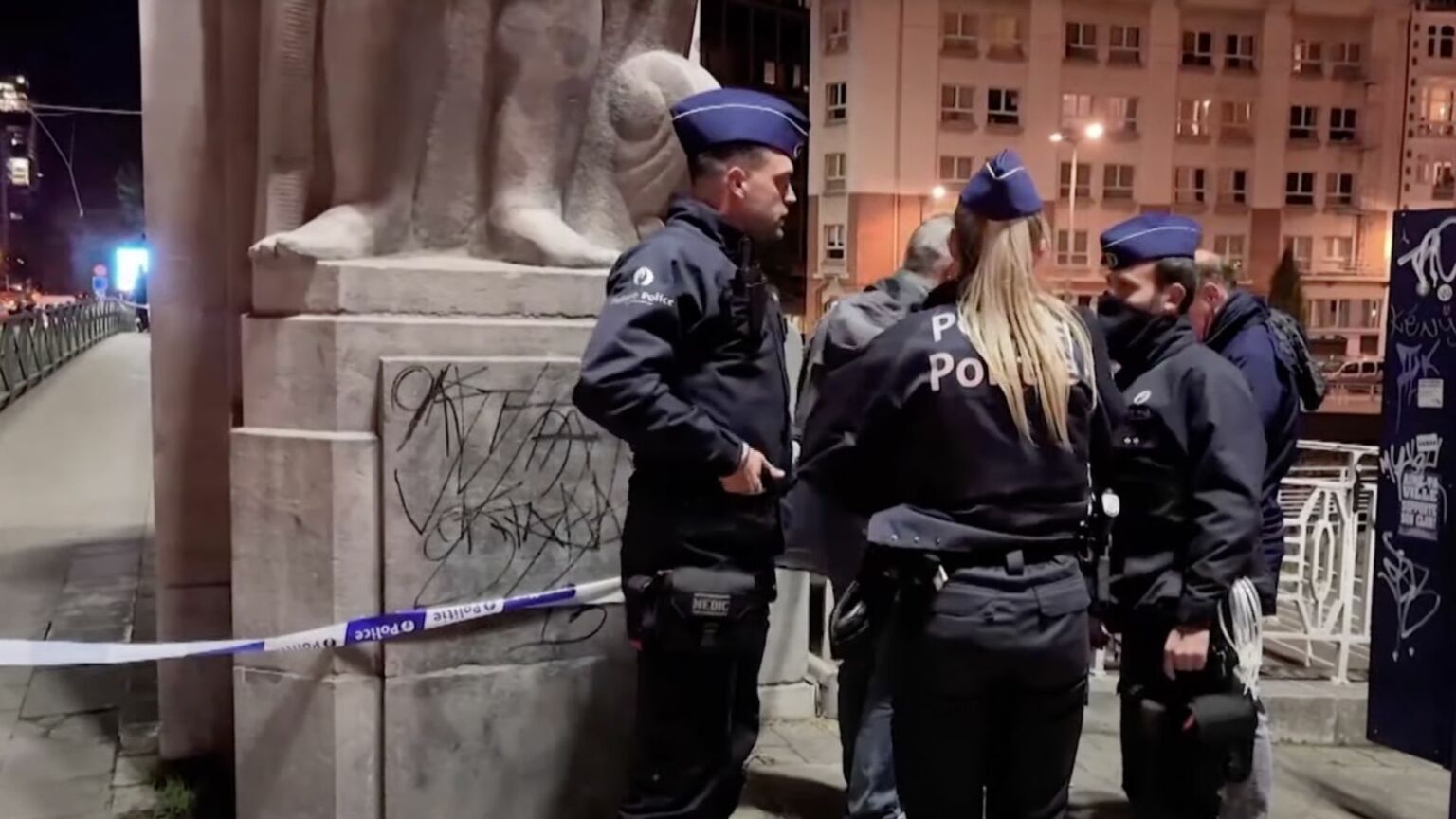 Europe stands united towards terror. We should refuse to be divided. The terrorists shall not win. All the same old platitudes are being dusted off as soon as once more, within the wake of two appalling Islamist terror assaults in Europe – first in France, now in Belgium.
Final evening, a suspected Islamist terrorist shot useless two Swedish nationals and injured one other when he went on a rampage in Brussels with an automated rifle. The suspect, a 45-year-old Tunisian generally known as Abdesalem Al Guilani, posted movies on-line calling himself a fighter for Allah and ISIS. After a night-long manhunt, Brussels police shot him useless this morning.
This comes simply days after a lethal knife assault in Arras in northern France final Friday – which the world appears to have already forgotten about. The alleged attacker, 20-year-old Chechen Mohamed Mogouchkov, stabbed a instructor to demise and severely wounded two others at a college. He was apprehended, alive, on the scene.
Extra particular motives haven't been confirmed, however there are already loads of clues. The Brussels killer appeared to counsel, in considered one of his movies, that he purposefully focused Swedes. (Belgium had been taking part in Sweden, within the metropolis, in a Euro 2024 qualifying sport on the time of the taking pictures, and his victims had been reportedly sporting Sweden shirts.) He additionally ranted that disrespecting the Koran is a 'pink line', suggesting his spree might have been in response to the latest Koran-burning controversies in Sweden.
In Arras, the image is a little bit murkier – however not a lot. Mogouchkov screamed 'Allahu Akbar' as he slashed at innocents. He was a identified Islamist extremist whose father was deported, on safety grounds, in 2018. French officers say that whereas Mogouchkov pledged allegiance to ISIS, the assault might also be 'linked' to the Israel-Hamas conflict.
It's unlikely to be a coincidence. Whereas the West's Hamas apologists insist the fear group's brutal pogrom towards Israel was a results of a territorial battle, that it was an act of 'resistance' towards Israeli 'occupation', that's not how Hamas's propagandists see it. They've all the time framed their toxic little demise cult, as Daniel Ben-Ami notes, not solely as genocidally anti-Semitic, but in addition because the 'Palestinian wing of worldwide Islamism'.
Certainly, the decision went out from Khaled Mashal – former chief of Hamas, now residing in luxurious in Qatar – for Muslims the world over to 'take to the streets' final Friday, the day of the Arras assault. 'To all students who educate jihad', he mentioned, 'to all who educate and study, it is a second for the appliance'. We'll study in time if this name was certainly heeded on the streets of France or Belgium.
However, the bloodshed in Arras and Brussels are a grim reminder that whereas, mercifully, Europe has been spared the dimensions of atrocities inflicted on Israel, by way of Hamas's pogrom, or the US, on 9/11, Islamist barbarism has nonetheless claimed the lives of lots of of harmless Europeans over the previous decade.
The knifing and taking pictures and blowing aside of civilians – for no different crime than being out on a Friday evening, or for exhibiting cartoons to kids, or for going to a pop live performance, or for sporting your nation's colors throughout a soccer match – pockmarks our latest historical past with a horrifying regularity.
So sure, we do want to face united, and refuse to be cowed, and all the opposite issues politicians say at occasions like this. However what's changing into clear is that we can't depend on politicians to show these phrases into motion – to make the confrontation with Islamist terrorism, and the toxic ideology that feeds it, something apart from empty slogans, or a kneejerk authoritarianism that destroys our liberties within the title of defending them.
In Britain, we now have spent the previous week debating whether or not we must always crack down on waving Palestine flags and chanting hateful slogans on demonstrations – all whereas ignoring the profound disaster of integration, and the ethical decomposition of the unconventional left, that has given us a pro-Hamas protest motion. That censorship will do nothing to handle the underlying points is seemingly misplaced on our elites.
So it's in France, the place the French state will fortunately ban all pro-Palestine demonstrations and censor Islamist speech, all whereas failing to maintain tabs on its 1000's of identified extremists. The Arras killer was already below surveillance, deemed a possible safety risk. He was briefly questioned by French home intelligence the day earlier than he confirmed up with two knives at a college.
In Brussels, the attacker was not solely identified to be an extremist, he was additionally within the nation illegally. He went off the radar after his software for asylum was declined in 2020. Police had been conscious of him since 2016, reviews the Guardian, when a 'overseas police service' disclosed that he had been radicalised. Belgian justice minister Vincent Van Quickenborne mentioned nothing was performed about him as a result of there have been many such instances on the time. The killer was additionally regarded as concerned in folks smuggling.
There'll all the time be terrorists who slip via the online, after all. However you can not assist however conclude that these governments are structurally incapable of taking this risk severely. Even essentially the most pro-migration amongst us will realise that somebody in a rustic illegally, with a historical past of criminality and extremism, shouldn't be fortunately strolling the streets. And but, again and again, terrorists have exploited Europe's incapability to regulate who comes, stays and goes.
Worse nonetheless, in Britain at the least, there's a profound ethical cowardice about even naming this ideology. Our legislators have satisfied themselves of the frankly racist notion that confronting Islamist terrorism dangers alienating all Muslims, as if they're all paid-up ISIS supporters. Which is why, for a time, even mentioning the phrase 'Islamist' in public dialogue was wont to have politicians branded execrable Islamophobes.
We now go to absurd lengths to keep away from speaking about Islamism. Two years in the past this week a British MP, David Amess, was stabbed to demise by an Islamist extremist in his constituency surgical procedure. And the primary debate his homicide sparked was one about why it's dangerous to troll politicians on the web. MPs even pushed for a 'David's Regulation' to deal with on-line abuse. It was a shameful displacement exercise to keep away from confronting the very actual, very offline risk we're coping with.
Europe should refuse to be terrorised. We should refuse to alter our lifestyle, cower in our properties or junk our freedoms in response to the scourge of Islamist terrorism. That's exactly what the murdering scumbags need. However I dare say Europeans would really feel so much bolder, and so much much less shaken as we speak, in the event that they believed for a second that their elites had the grit, the know-how and the ethical braveness to face down this risk alongside them.
Tom Slater is editor of spiked. Comply with him on Twitter: @Tom_Slater_